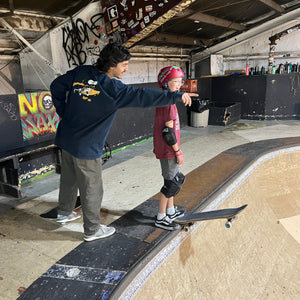 PRIVATE SKATEBOARD LESSON (WITH ANY ON HAND INSTRUCTOR)
PLEASE READ BEFORE YOU BOOK
BY BOOKING YOU AGREE TO THE FOLLOWING TERMS
REFUNDS / RESCHEDULING
LESSONS ARE 100% NON REFUNDABLE.  LESSONS MAY BE RESCHEDULED 24 HOURS IN ADVANCE OR MORE.  TO RESCHEDULE, FOLLOW THE LINK IN YOUR CONFIRMATION EMAIL.  PLEASE BE SURE TO INCLUDE AN ACCURATE EMAIL TO RECEIVE LESSON CONFIRMATION, A REMINDER, AND THE ABILITY TO RESCHEDULE.

LESSON PACKAGE

 DISCOUNT
GET $40 OFF FOR EVERY 4 LESSONS BOOKED.  LESSONS MUST BE BOOKED AT THE SAME TIME.  DISCOUNT AUTOMATICALLY APPLIES TO YOUR CART.  UP TO 4 LESSON PACKAGE DEALS CAN BE APPLIED TO A SINGLE CART.
TIPPING
TIPPING IS WELCOME.  IF YOU ARE HAPPY WITH THE SERVICE OUR INSTRUCTORS PROVIDE, WE WELCOME YOU TO LEAVE THEM A TIP, THOUGH IT IS NOT REQUIRED.
PLEASE NOTE
THIS LESSON BOOKING IS WITH ANY ON HAND INSTRUCTOR.  IF THERE IS SOMEONE YOU LIKE TO WORK WITH, YOU MAY REQUEST THEM IN THE "NOTES" AND WE WILL DO OUR BEST JOB TO MATCH YOU WITH THEM, BUT IT IS NOT GUARANTEED.  WE ARE WORKING TO ADD THE OPTION TO BOOK WITH SPECIFIC INSTRUCTORS SOON.

 

"PRIVATE" LESSONS TAKE PLACE DURING OPEN SKATE SESSIONS.  YOU WILL WORK PRIVATELY WITH AN INSTRUCTOR BUT THERE MAY BE OTHER RIDERS IN THE FACILITY.  THERE IS A PRIVATE LESSON AREA IN THE EVENT THE PARK IS VERY BUSY.